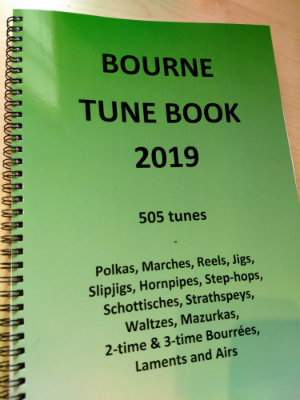 The 2019 BOURNE TUNE BOOK contains 170 pages of 505 great tunes.
A4 pages and it will lay flat on your music stand or table
It is published primarily for the assistance of those who attend the regular monthly Traditional Music sessions at the Hare and Hounds, Haconby, near Bourne.
It is a non-profit venture, intended as an educational tool from which folks can learn tunes
Included in the price of the book are:
- a sound file of each tune being played slowly, so you can learn by ear if you prefer
- a 'Cheat Sheet' for those who remember tunes, but can't recall how they start, and
- Chord sheets (no music, just chords) for you to give to your accompanists like guitarists or keyboard players
Contact Pete Shaw on 01778 571563 if you are interested in acquiring one - price: £14.00 (& £3.90 if posted)
A pdf copy of the front page & the index is HERE, so you can see what's on which page
Below are the mp3 sound files for each page, played at a slowish speed, for non-music-readers:
CHEAT SHEETS (starts/aide memoire): The 1st 2 bars of everything + the index is HERE
CHORDS: For guitarists, piano players, etc who'd like to play along without the full music, the chords with index are HERE
ERRORS: If any errors are spotted, get your pen out, the list is HERE (latest error 25/5/20). If you spot any errors , please email me at This email address is being protected from spambots. You need JavaScript enabled to view it.
BASS PARTS: I am adding a bass line for some pages. Purchasers can email me at This email address is being protected from spambots. You need JavaScript enabled to view it. for the ones they like, incl bass TAB and a sound file.
| | |
| --- | --- |
| Page No. | Tunes |
| 7 | Winster Galop, Dorset 4 hand Reel, Rakes of Mallow, Buttered Peas, Uncle Bernard's |
| 8 | Salmon Tails, Jimmy Allen, Curlyheaded Ploughboy, Huntsman's Chorus |
| 18 | Battle of Prague, Ashley's Ride, Girl with the blue dress on |
| 50 | Rosin the Beau, Burning Bridges, Whose Jig, Seven Stars, Roman Wall |
| 81 | Foxhunter's Jig, Drops of Brandy, Another Jig Will Do |
| 85 | Soldier's Joy, Morpeth Rant, Staten Island |
| 86 | Goodbye Girls I'm going to Boston, Golden Slippers, Chinese Breakdown |
| 94 | Turkey in the Staw, Sally Gardens, Mason's Apron |
| 104 | Liberty, The Campbells' Return to Red Gap, Rock the Cradle Joe |
| 111 | Harvest Home, Boys of Bluehill |
| 146 | Midnight on the water, Ashokan Farewell, Elsey's Waltz |
| 159 | South Wind, Fanny Power, Planxty Irwin |
| | |
| | |
| | |
Pete plays cajun accordeon, cajun fiddle and sings in cajun french.
Previous cajun music experience as part of the Harrison Shaw Cajun Band, Triolet Cajun, and the Courtableau Cajun Band.
Pete is looking for interested musicians to play this infectious foot-tapping music. Training given.
Looking for:
- singer / guitarist
- fiddle player
- triangle / rubboard player
and maybe a drummer.
Cajun music is exciting - you can tell from those rhythms – two-steps, Cajun waltzes, and Cajun blues.
If interested, contact Pete on 01778 571563 or 01778 570115.
MELODEON (a button keyed accordeon)
Right hand buttons

pdf

Example of melodeon TAB
mp3

1 row melodeon in C

pdf

Left hand buttons

pdf

M
Taking the 3rds out
pdf
I have music notation
melodeon TAB,
& and mp3s for 91 pieces
POLKAS & MARCHES

JIGS

REELS
Bear Dance

Athol Highlanders

Chinese Breakdown
Bluebells of Scotland

Brian Boru's March

Davy Davy Knick Knack
Bonny Kate
Burning Bridges

Golden Slippers

Buttered Peas
Capt Lanoe's Quick March

Goodbye girls, I'm going to Boston

Buttermilk
Constant Billy

My love's but a lassie yet

Crosshand Polka

Cucumber Camper

Redwing

Curlyheaded Ploughboy

Fiery Clockface

Speed the Plough

Donkey Riding

Hogmanay Jig

Dorset Four Hand Reel

Irish Washerwoman

HORNPIPES & STEPHOPS

Egan's Polka

Lady in the Boat - low

Boys of Bluehill

Fanny Frail

Lady in the Boat - high

Harvest Home

Harper's Frolic

Lass o' Dallowgill

Keel Row


Huntsman's Chorus

Lincolnshire Poacher

Monck's March

Jenny Lind

Oyster Girl, The

Nae good luck

Jimmy Allen

Off She Goes
N

avvie on the Line

Lord of the Dance

Plane Tree, The

Steamboat, The
Maggie in the Wood

Rakes of Kildare

Marie's Wedding
R

ogue's March

MISCELLANEOUS

Over the Hills

Rosin the Beau

Hal an tow
Portsmouth
Stool of Repentance

Whittlesea Straw Bear tune - low

Rakes of Mallow

White Swan Jig

Whittlesea Straw Bear tune - high



Rattling Bog

Salmon Tails Up the River

SLIPJIGS

Spanish Ladies

Old wife of Coverdale

CHRISTMAS




Theme Vannetaise

Away in a manger 3/4

Uncle Bernard's

WALTZES & MAZURKAS

Ding dong merrily on high 4/4

Vandalls of Hammerwich

Cajun Waltz

God rest ye merry gentlemen 4/4

Walter Bulwer's No 2

Fanny Power
Good King Wenceslas 4/4

Will's Way

Happy Birthday

O little town of Bethlehem 4/4

Winster Galop

Julia Gates' Waltz

Silent Night 3/4

Wooden Heart

Man in the Moon, The

We three Kings 3/4

Margaret's Waltz

We wish you a merry Christmas 3/4

Michael Turner's Waltz

While shepherds watched 4/4

Planxty Irwin

South Wind

Varsoviana

Zodiac Waltz
BOURNE & other Tune Book on this site:
2019 Bourne Tune Book is now ready ready
Click on the sub-menu on the left